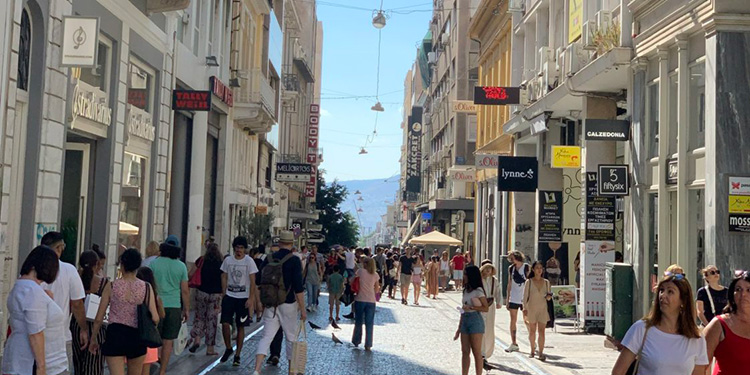 Athens is a city becoming more and more known for its fusion of great ancient beauty, modern evolution and burgeoning underground culture. It's no surprise then that the shopping scene in the Greek capital offers an equally interesting mix of options. Whether you prefer to take a leisurely stroll and window shop, or head to a hub where you can find all your favourite brands and stores in the one spot, Athens has got your shopping needs covered.
If you want to shop among the Gods…
The centre of Athens has no shortage of must-see shopping spots, set among the ancient sites of the Athenian agora. For those looking to get well acquainted with high-end Greek couture and well-known European designers, a morning in Kolonaki will do the trick. Step into the top fashion and jewellery houses of Prada, Chanel, Lalaounis and Kessaris as well as the hottest boutiques on well known Skoufa street like Freeshop and Luisa World.
As the glamorous streets of Kolonaki lead you down towards the city centre, be sure to walk through Kolokotroni Street where you'll find the flagship store of Ancient Greek Sandals for your next pair of forever-sandals, and neighbouring lab The Naxos Apothecary.
Syntagma's Ermou street houses all the major Greek and International retail brands like Migato, Korres, Sephora, Zara, Nike, Oysho and more. One could easily lose themselves in the little streets branching off from Ermou to explore the side-streets of Monastiraki leading up towards Psyrri, where you'll find stores selling ethnic items, crystals, beads, materials, leathers, artworks and more.
For souvenirs and Greek nicknacks, Monastiraki and Plaka remain the ideal places to explore. In Plaka, among the gaudy touristy trinkets and t-shirts (an important part of any holiday!) discerning shoppers will find some truly impressive clothing, shoes and accessories designed by Greek artists and fashionistas. Stores such as Forget Me Not, Heroes and Thiki take the Greek souvenir to another level, showcasing trendy, witty and super stylish creations by Greek artists and designers.
In Monastiraki the Flea Market (entryway from Monastiraki Square outside the metro/HSAP station) remains the same – selling a mish-mash of everything from ancient Greek helmets and Jesus sandals to beads, Doc Martin boots, and beautiful handmade leather bags.
Read more in: Greek City Times