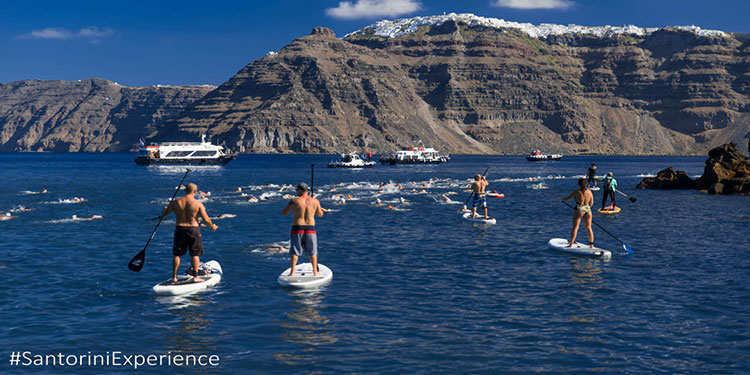 Santorini, one of the top tourism destinations in the world, has managed, within the last few years, to create its own strong Greek brand for sports tourism, "Santorini Experience" through the co-organization of the Municipality of Santorini, Municipal Sports Cultural Environmental Organization of Santorini (DAPPOS) and Active Media Group.
The top and award-winning sports tourism event, which gathered more than 6,000 visitors from 45 countries last year, will take us to the island of Santorini, for the 5th consecutive year, on October 4-6, 2019 through running and swimming races.
Special offers on ferry tickets & accommodation packages
All those traveling to the island by ferry for the 5th "Santorini Experience", will be able to enjoy once again this year the safety and comfort of Blue Star Ferries. The top Greek shipping company offers 50% discount on the ferry tickets, from/to Santorini and 30% discount on vehicles to all those visiting the event and the island from October 1st to 12th 2019. Each person who has completed his/her registration is entitled to the same discount for 3 more people (if these are his/her escorts) or for 4 people (if these are family members).
Travel to Santorini, under the ideal weather conditions from October 4-6, and take advantage of the accommodation offers from hospitality sponsors and partners of the event like VitaNTravel which offers accommodation packages starting from 170€ per person for three days, including accommodation and ferry tickets. For more information, press here.
At the same time, Avance Rent A Car gives the opportunity to participants in the 5th "Santorini Experience" to make their reservation, for any vehicle of their choice regarding their travel to the island during the period of the event, with a 30% discount on the official price list until June 30th. Whereas from July 1st and until the event, reservations will have a 15% discount. In terms of bookings, participants need to send an email to sales(at)avance.gr
The unique volcanic energy is one of the elements that makes the swimming race of "Santorini Experience" stand out. Specifically, participants have the opportunity to swim the 1.5 miles (2.4 km) route from the volcano to the old port of Fira, having the imposing view of the island in front of them, in the open water swimming by Vikos.
The race is held under the technical direction of federal coach with Olympic and World Championship distinctions, Nikos Gemelos, the FINA regulations and the safety of the Boatmen Union Santorini and Lifeguard Patrol.
Read more in: gtp.gr