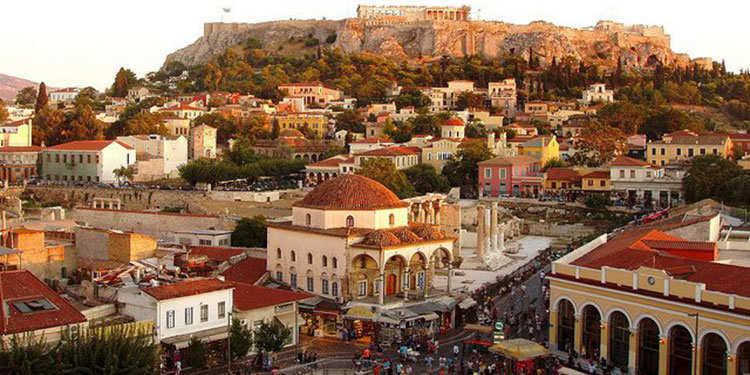 Located at the heart of Athens, Monastiraki Square is a unique blend of styles, cultures and eras, ever-changing and vibrant. It is without question one of the most charming and lively areas in the Greek capital.
If you just stand at the center of Monastiraki Square and take a good look around you, you can form a more or less complete picture of Athens' past and present, all within just a few square meters.
The stunning diversity of the architecture of its buildings alone epitomizes the turbulent history of Greece. On one side of the square is the Orthodox Church of the Virgin Mary Pantanassa, and on the other is the Ottoman-era Mosque of Tzistarakis.
Built in the second century AD, the pillars of Hadrian's Library can still be seen through the arches of the mosque, while – directly above them – the Acropolis dominates your view, forming a stunning backdrop for the scene.
A number of neoclassical buildings which surround the square, including the Metro Station, add yet another era to the list of those which are already exemplified in this small space.
Recently renovated, the Square itself is now paved with mosaic "flows" of marble, stone and wrought iron, symbolizing the diversity of the Mediterranean.
There is so much more to this charming place than one might think. Let's take a dive into Monastiraki's fascinating history, and what makes it so completely unique today.
Read more in: Greek Reporter