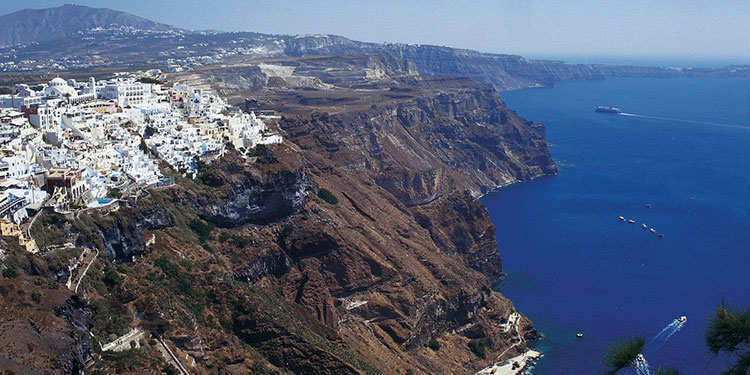 The Greek islands of Santorini and Corfu are included on the list of the Top 25 destinations to go on holiday in September, which was recently published by UK luxury travel magazine Condé Nast Traveller (CNT).
September is the new January, which means the time is ripe for new beginnings and new adventures… It's the sweet shoulder season for a number of exotic sugar-sand islands
, CNT said.
Corfu ranks 20th and Santorini 23rd on the list, which also includes cities and islands from all over the world.
the shoulder seasons – April-May, September-October – tend to be the most pleasant time to visit Greece and the Greek Islands… So, we will plump for September in Corfu, when our morning swim is a warm and delicious affair, and the island's forested hills are still green for afternoon dozes beneath the oaks and olive trees.
, according to CNT.
Furthermore, the travel magazine strongly recommends Santorini for holidays in September, when "the boiling broiling summer rush is over, the sea is warmer than ever, the skies are blue and the evenings cooler".
Galway in Ireland ranks first on CNT's list, and is followed by Hermanus, South Africa in second place, Utah US in third, Istanbul Turkey in fourth, and Loire Valley, France in the fifth position.
Galway, Ireland
Hermans, South Africa
Utah, USA
Istanbul, Turkey
Loire Valley, France
Zanzibar, Tanzania
Buenos Aires, Argentina
San Francisco, USA
French Polynesia
Albania
Mexico City
Japan
Peru
Lisbon, Portugal
Morocco
Ibiza and Formentera, Spain
New York, USA
Sicily, Italy
Milan, Italy
Corfu, Greece
Coatswolds, United Kingdom
Zimbabwe
Santorini, Greece
Budapest, Hungary
Barcelona, Spain
Read more in: gtp.gr