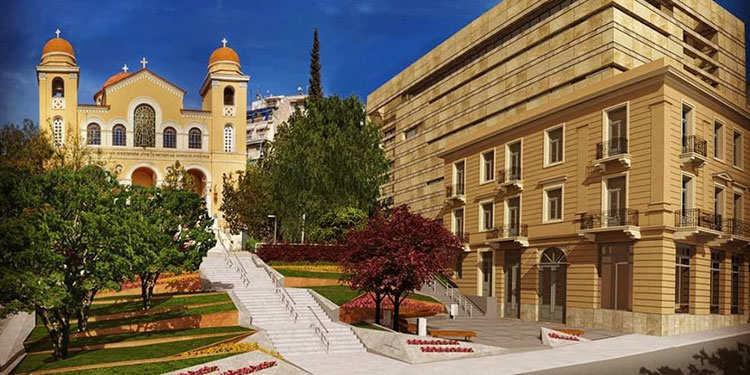 Athens' new Basil & Elise (B&E) Goulandris Foundation Museum opens to the public on Wednesday, showcasing works by Picasso, Chagall, Klee, Kandinsky, Rodin, Cezanne, Van Gogh, Monet, Miro, and Giacometti, as well as by prominent Greek artists including George Bouzianis, Yannis Tsarouchis, Nikos Hadjikyriakos-Ghika, Yannis Moralis and Michalis Tombos.
Inaugurated on Tuesday by Greek President Prokopis Pavlopoulos in the presence of Prime Minister Kyriakos Mitsotakis, government officials, arts patrons and experts, the museum features works belonging to the Basil and Elise Goulandris collection.
Besides its permanent collection of 19th- and 20th-century art, the 11-storey museum, housed in a restored early 20th-century mansion in central Pagrati, will hold temporary exhibitions featuring the works of Greek and foreign artists, as well as offer monthly programs of cultural events and educational workshops.
Designed by I & A Vikelas architects, the museum also includes an art store, a 6,000-volume library, a children's workshop, a 190-seat auditorium, maintenance workshop spaces, a garden, and a rooftop café and restaurant serving Mediterranean-inspired dishes with the finest fresh ingredients prepared by chef Andreas Lagos.
Aiming to enhance the visitor experience, the Basil & Elise Goulandris Foundation also offers guided tours and screenings (at no extra cost) of short documentaries on individual artworks within the collection.
Meanwhile, art lovers will be able to find original and exclusively made products designed by Greek artists at the museum shop located on the ground floor.
The Basil & Elise Goulandris Foundation can also host events, conferences, corporate presentations, social functions, seminars, workshops and film screenings. Membership programs are available.
The Basil & Elise Goulandris Foundation is located on 13 Eratosthenous St, in Pagrati, and is open Tuesday-Sunday from 10am to 6pm; Friday 10am-10pm; closed on Mondays. General admission is at 8 euros. Discounts for senior citizens, teenagers, students, unemployed, individuals doing their military service are available.
Free admission for children under 12, disabled with their companion, teachers accompanying school visits, holders of the ICOM – ICOMOS card, certified tour guides, and journalists.
Read more in: gtp.gr