Easter in Greece - The Feast of all Feasts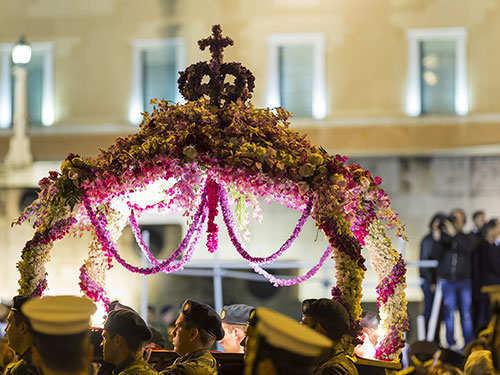 Considered the most important holiday on Greek calendar of the richest in folklore, the celebration of Orthodox Easter (Pascha) is unique throughout Greece. From Crete to Macedonia, Easter customs become a herald of the spirit's and nature's rebirth, while Easter celebrations constitute a vivid aspect of the folk culture, rich in meaning and symbolism.
Easter is a moveable holiday. Its celebration falls on the first Sunday after the full moon of the spring equinox. All over Greece, a plethora of customs and traditions are observed during the week prior to Easter, the Holy Week. The preparations for the celebration of the Resurrection start on Holy Thursday. On that day, housewives traditionally prepare special cakes named tsourekia, biscuits and red color eggs. The use of egg is a symbol of rebirth while the red color stands for the blood of Christ. In the past, in many households, people used to place the first red egg on the icon stand of the house in order to cast out evil spirits.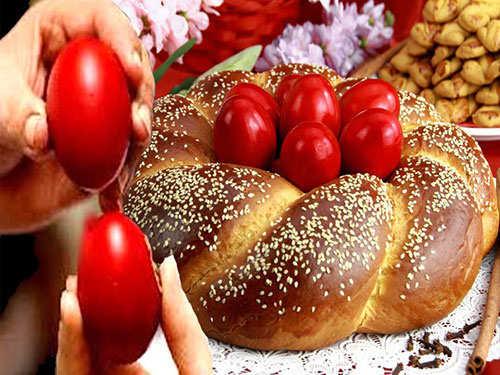 Friday is the most sacred day of the Holy Week, the day of the culmination of the passion of Christ with the deposition from the cross and Christ's burial. Because it is a day of mourning, housewives avoid doing housework. Women and children go to church to decorate the Epitaph (Bier of Christ) with flowers, while in the evening the Epitaph procession takes place. On Saturday morning, preparations start for the festive dinner and a special soup is cooked called "maghiritsa".
Shortly before midnight, people gather in church holding white candles which they light with the "Holy Light" distributed by the priest. When the latter chants "Christ is risen" (Christos Anesti), people exchange wishes and the so-called "Kiss of Love". With the "Holy Light" of the candles they make three times the sign of the cross on the door post over the front door of their houses for good luck. Then they all gather around the table, they crack red eggs and wish one another Christos Anesti. On Sunday morning, mainly in Greek countryside, lamb is prepared on the spit and people eat and dance usually until late at night.